Fairlight Console Bundle 5 Bay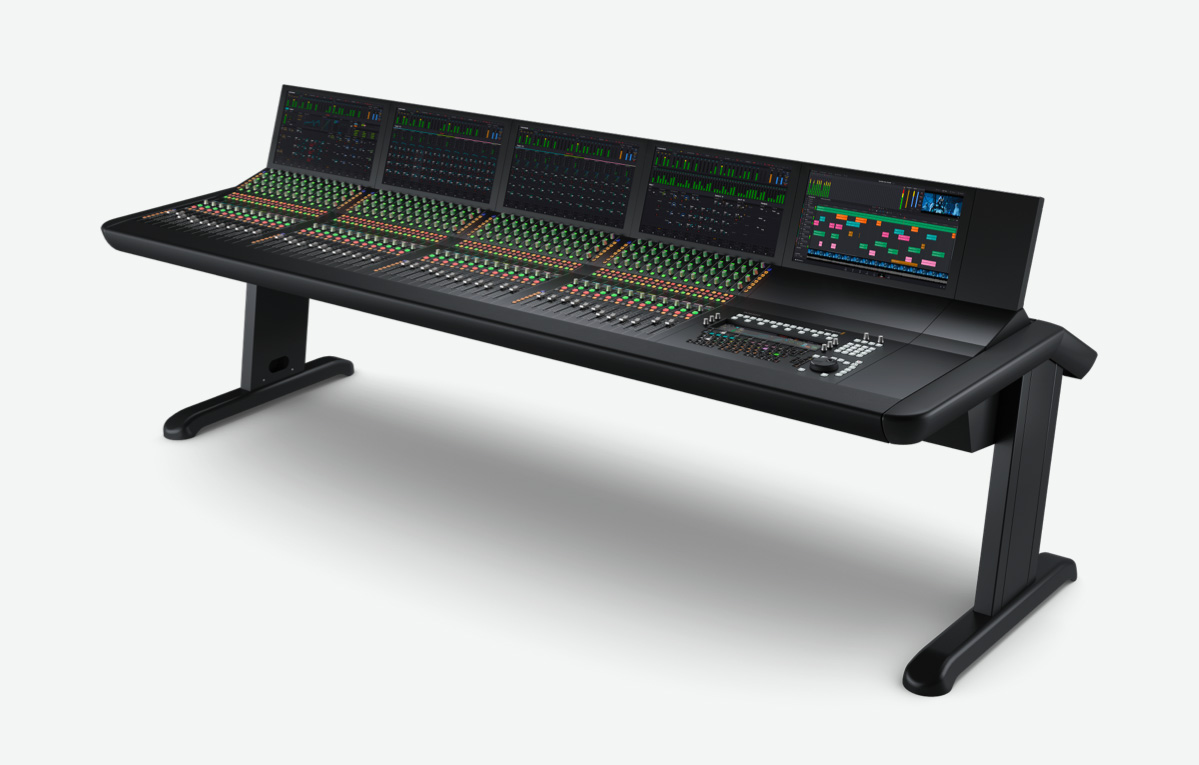 Complete Fairlight studio console with 4 channel faders, 4 channel controls, 1 audio editor, 5 LCD monitors and 5 bay chassis.
Fairlight Advanced Consoles
Used by Hollywood and broadcast, Fairlight consoles make it possible to mix large projects with a massive number of channels and tracks. Modular design allows customizing 2, 3, 4, or 5 bay consoles!
Fairlight Studio Consoles
If you work on film, television, streaming content or commercials, the modular consoles make it easier and faster to mix larger projects with more channels and higher track counts. Modular components can be dropped into existing desks or you can purchase and customize a 2, 3, 4, or 5 bay chassis!
Fairlight Desktop Console
The Fairlight Desktop Console is a complete audio mixing control surface for mixing multiple tracks at once, automating a variety of parameters and plug‑in settings, controlling channel functions, recording, monitoring, and navigating your project. It's ideal for new users, smaller studios, commercials, online and independent work. You get a familiar mixer design with 12 motorized faders, precision control knobs and illuminated buttons for quickly identifying channels! You can use the knobs and buttons to control channel parameters, EQ, dynamics, plug-ins and more. The built in HDMI output lets you connect a display, giving you the same interactive graphical feedback as the larger consoles!
The Fairlight Desktop Console uses the same high quality faders as the full size modular consoles. The sculpted faders are smooth and provide the perfect amount of resistance for making subtle adjustments. The precision engineered encoder knobs ensure a long life of noiseless operation, and the console buttons are rated at a million presses. Individual LCDs display track information for each channel. The high quality search dial is extremely responsive and is much faster than a mouse. The soft front panel bumper makes long sessions more comfortable, the console can be installed flush in a custom desk, and there's even a built in power supply, which means no power brick!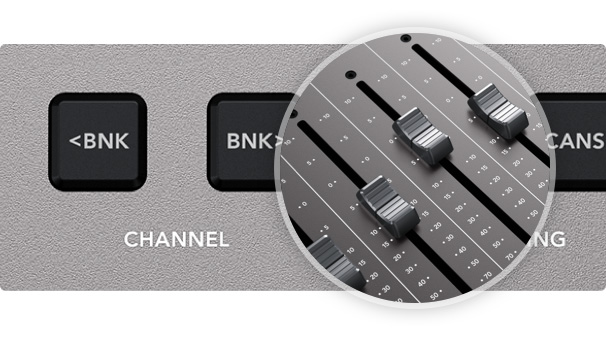 Motorized Faders
Twelve belt driven 100mm motorized faders offer precision volume control for adjusting levels. The bank control buttons let you switch between fader sets to control different channels. Faders can even be assigned to adjust send and record levels.
Navigation and Transport Controls
When you're working on a tight deadline and have a large project with a lot of tracks, you don't want to waste time scrolling through the timeline or hunting for a clip. The Fairlight Desktop Console helps you work faster because it includes transport buttons and a high quality jog shuttle wheel. That means you'll be able to quickly move around the timeline and navigate clips, scrub, start or stop playback, or jump to a new position with incredible speed. The controls are logically grouped, allowing you to keep your hand in one position while navigating the timeline from end to end, or anywhere in between, in seconds. The search dial can also be used for timeline zooming, clip levels and more.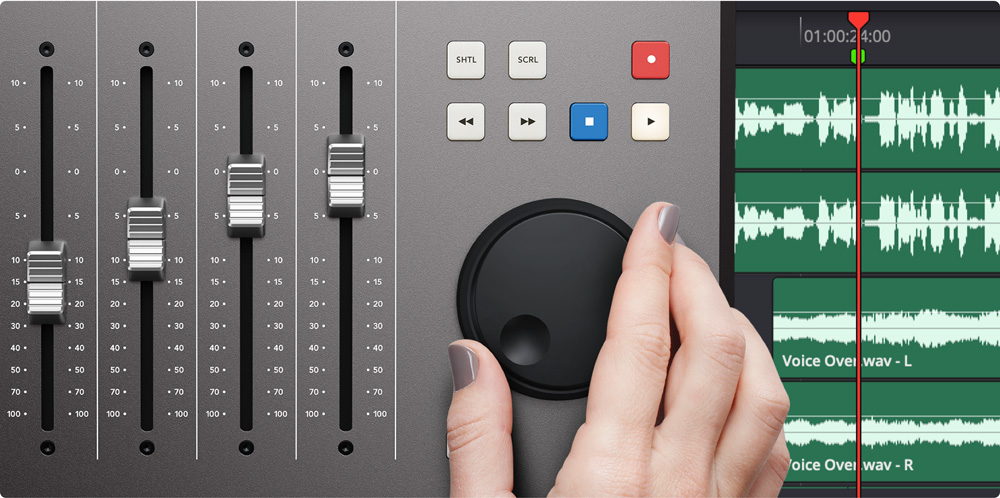 Fairlight Studio Consoles
Once you've mastered the desktop console, it's easy to step up to a larger modular console as most of the controls and interfaces are the same! Modular consoles make it easier to mix larger projects because you have more faders and control buttons. You can create a custom console by combining the Fairlight audio editor, channel faders, channel controls, and LCD monitors. The components can be dropped into your own desk, or you can select and configure a 2, 3, 4, or 5 bay Fairlight chassis. You can buy a chassis today and add to it later as your needs change. There are also chassis accessories that allow you to angle the console, fill in blank panel spaces that you can add to later and more.